Considering that all online activities today are carried out through mobile apps, you can see that building an app is a good investment idea. At least, according to Forbes, one in eight American investors thinks that way. So, what are the vital reasons behind these statistics that attract these investors to make an app? 
Building an app can sometimes be an expensive investment. However, the profit may be just as high. But before you can get such high profits from your app, you must monetize it. There are multiple ways to monetize an app. Let's take a quick look at them.

You can monetize an app basically in 5 ways. These are:
Freemium Model
Subscription Model
Sponsorship Model
In-app Purchases
In-App Ads
To monetize your app with the first four of these, it must be commercialized in markets such as Android and App Store. Therefore, if you've just developed your app, unfortunately, it is impossible to earn money with these methods. On the other hand, AdMob offers app releasers a way to monetize their newly developed apps. 
How does AdMob monetizes your app?
AdMob is a platform that allows app releasers to monetize their newly published apps through in-app ads. You can simply imagine it as a marketing platform. It analyzes the ads and ad revenues of app publishers. AdMob's analyses are pretty accurate. Because it generates performance-based metrics and takes them into account while analyzing. When Google is the platform developer, of course, it is not difficult for AdMob to obtain the data it needs for analysis. 
AdMob provides high mobile responsive ads to apps not yet commercialized in app markets. Therefore, an ad that AdMob provides for an app automatically fits the size of each device. Thanks to this feature, AdMob has a minimal negative impact on the UX of your app.
How to get maximum efficiency from AdMob?
AdMob offers ads for multiple mobile platforms. Besides Android and iOS platforms, Windows Phone, WebOS, Flash Lite, and all standard web browsers are some of these categories. Thanks to AdMob, you can decide the types of in-app ads you will use for each category separately. Using this with the filtering feature, you can get maximum efficiency from your ads. Because thanks to the filtering feature, you can determine which types of ads users are indifferent to or uncomfortable with for each platform. Thus, you may set the most suitable ad type for each platform to get maximum efficiency. 
That's not all AdMob has that'll help you to monetize your app most efficiently. It also allows you to decide when and where to show in-app ads. Thanks to these features, it helps you have complete control over in-app ads. 
Another feature of AdMob that will help you get more efficiency from in-app ads is its advanced reporting. That feature allows you to monitor who is using your app, click-through rates, and in-app ad revenues. By monitoring this data, you can make your app available to the right users who might be interested in it. Increasing the reach will increase the revenue you'll get through in-app ads. So how much money can you make with AdMob using all these tips?

How much money you can make with AdMob?
After releasing an app, it takes time for it to become commercialized on Android or the App Store. This process may sometimes take 15 days and sometimes up to several months. How long this process will take depends entirely on how well your app complies with the guidelines of the related platform.
Let me explain this with an example. Let's say you have released an app for Android devices. In this case, the more your app conforms to the Android app development guidelines, the faster your app will become commercialized in the Android Store. You may assume the same is also true for other platforms. This is where app releasers rely on AdMob to monetize their apps. Thanks to AdMob, they make money through ads until their apps are commercialized. So, how much money do app publishers make on average using AdMob in this process?
How are in-app ads priced?
First of all, let's explain how the ads you will get through AdMod are priced. AdMob ads are priced in three different ways. These are:
CPM (Cost Per Mille)
CPC (Cost Per Click)
CPA (Cost Per Action)
For Cost Per Mille, pricing is per thousand ad impressions. The digital ad industry widely uses CPM to price app ads. On the other hand, in CPM, users must have tapped on the ad displayed in the app in order for the app owner to receive payment. So, each time users tap on the ad, the advertiser pays, and the owner of the app earns. This pricing model is disadvantageous in terms of profit for app owners. However, it is also advantageous in terms of cost for advertisers. Because advertisers only pay when users interact with their ads, that is when they reach their goals.
CPA, another basic model used to price in-app ads, is the most advantageous model for advertisers. Because in this model, advertisers only pay when users perform a specific action. For example, let's say that the targeted action for an advertiser to pay is for users to download the app shown in the ad. In this case, advertisers only pay when users tap on the ad and download the displayed app.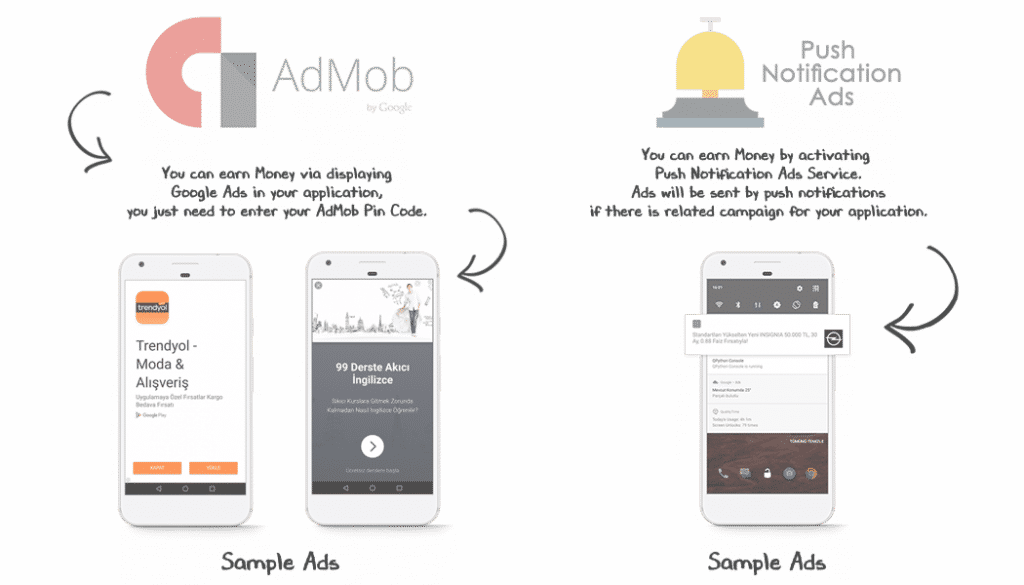 Examples of earning more with AdMob
Rich Woods is the first example that best reveals how much you can earn with AdMob. He is an experienced app developer. One day, Rich decided to develop his own app in his spare time. The app idea he planned to create was extremely simple: A slot machine. Rich decided to develop this game as soon as possible and release it for free. He was planning to monetize this slot machine game with AdMob. Finally, one month after releasing the Cherry Chaser Slot Machine game, over 300,000 people downloaded it. By the end of the first month of its launch, the app was earning Rich $100 a day. More than 1 million people have downloaded the Cherry Chaser Slot Machine game today.
Another example that shows how much money you can make with AdMob is Szymon Klimaszewski. The first app released by the successful app builder is Blood Pressure. By the end of the first year of its launch, the app was earning its developer Szymon Klimaszewski almost $1000 a month. Today, more than 10 million people use this app. 
Have you ever heard of Balloon Island? It's an app development company. Millions of people have downloaded and played the free games developed by Balloon Island. They were also monetizing their apps with AdMob. And at the end of 2016, they were making $2000 a day just through AdMob.
Here is our last example: HeroCraft LTD. I bet you have heard of the Farm Frenzy craze before. In fact, there is a high probability that you have downloaded and played this game before. Because more than 10 million people have downloaded and played Farm Frenzy so far. HeroCraft actually decided to monetize the app only through in-app purchases. This decision had earned them $20,000 for the first four months. However, when they decided to monetize their apps with AdMob along with in-app purchases, things took a different turn. This move tripled HeroCraft's profits from Farm Frenzy. They earned almost $60,000 from Farm Frenzy over the next four months.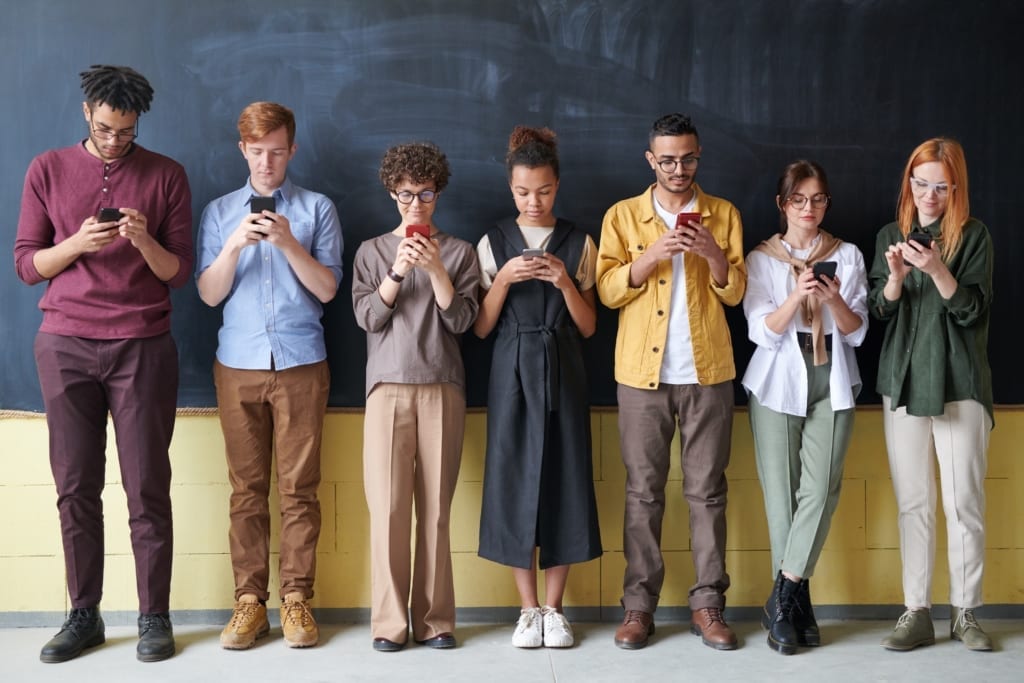 How to start making money with AdMob?
As you know, there are several ways to build an app. The simplest of these is to use app development software. So, let's go through with this example. Let's assume you decide to create an app with an app maker because you have no coding knowledge. Let me point out here that app maker costs can be quite high. However, you can do this with Mobiroller, the app maker with both the easiest-to-use app development software and affordable pricing. Finally, you have managed to build your app with Mobiroller in a couple of weeks. Why would you wait for months for it to be commercialized in app stores to be able to monetize the app that you'd developed in such a short time? Just go to AdMob and set up your app. Here's how to do it:
First of all, you need to sign in to your AdMob account.
On the sidebar, you will see the Apps option. Simply click on it.
Then select the Add App option from the menu that will appear.
Then specify whether your app belongs to the iOS or Android platform.
Finally, by clicking on the Continue, you will have completed the process of adding your app to AdMob.
Now all you need is a mobile app. Don't worry! That's what Mobiroller is for. With Mobiroller, you can create your own mobile application without the need for single code knowledge. The Mobiroller interface has been designed so that anyone who wants it can do this easily. Create your own mobile application now and start earning income.