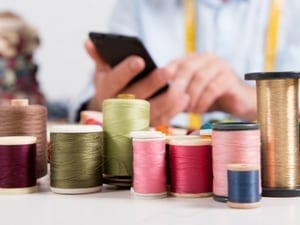 You wouldn't be wrong to say that the place of mobile apps in our lives is growing bigger every day. Fashion world develops very fast. Therefore, it becomes apparent that the players need to take some steps for getting ahead of their competition.  One such step would be having mobile apps for fashion designers, as mobile apps have a wide and global audience. 
In a day and age where fashion is getting ever more integrated with technology and the social media, it is of great benefit for fashion designers to benefit from a mobile app to remain under the spotlight. So it only makes sense for them to have their apps, and so both reach the mobile users, and increase their sales.

Here you may find some of the main advantages of mobile apps for fashion designers can provide…
You can create awareness
You can increase your visibility by keeping up with the mobile technology. This way, you can get a chance to become noticed by potential users. You will also be able to keep in touch with your existing customers. Keeping your app content fitting with the latest trends will allow you to always keep the users' interest alive.
You can form customer loyalty
Privileges that you will offer only to the users of your mobile app can raise the customers' curiosity. This way, you can encourage them to use your app and do some shopping. This can allow you to make the customers who have developed loyalty to feel special. You can offer them a value proposition, and differentiate yourself from your competitors.
You can reach wider audiences
If you target as wide an audience as possible, you may be able to get your brand recognized by greater masses. Mobile apps for fashion designers can allow them to become much more accessible and more recognizable throughout the globe. By not being limited to your design office, and opening up to the mobile world, you can get your art to reach the masses independent of your location.
You can continue your marketing efforts in different venues
With putting emphasis on social media integration in your mobile app, you can lead the users into promoting it in their social networks. Using the social media actively as a marketing platform will make it possible for you to make a difference in the fashion world.
Additionally, using other digital marketing channels like search engine ads can also help you with reaching your goals in the shortest possible time.
If you don't have your mobile app yet though and want to cement your place in the fashion world with a mobile app, you can create your MobiRoller account and reach the mobile users in just minutes.