Building an app requires significant investments and commitment, which is why you should be strategic about how you will market it. We live in a digital era with millions of apps. The possibility that your mobile app will pass unnoticed is very high. To precisely introduce your app to your targeted audience, you need a clear marketing strategy.
 Efficient Mobile App Marketing Requires The Following Steps: 
Learning how to engage with them, communicating with them, analyzing their in-app behaviour to shape and advance your product constantly.  The primary purpose of the marketing strategy is to attract customers who will eventually become loyal users of your mobile app. Below, read some of the most practical methods to market your mobile application.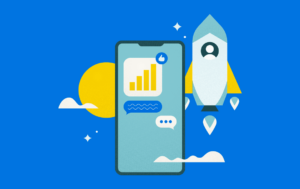 One method of marketing your app is by using social media platforms such as Facebook, Twitter, or Instagram. Make sure to create posts that are eye-catching and attractive enough for users to want to check out your app. 
Another strategy is influencer marketing, which involves partnering with an individual who has a large following on social media platforms. This person can help promote your app to their followers who might be interested in using it. 
You can also use paid advertising as a way to get people to download and try out your app. Pay-per-click (PPC) ads are a type of paid advertising that allows you to place ads on search engines such as Google or Bing. When someone clicks on your ad, they will be redirected to your app's page on the respective store. 
Finally, make sure to include ASO (App Store Optimization) as part of your marketing strategy. ASO is the process of optimizing your app's page on an app store so that it appears higher in search results. This can help increase the visibility of your app and encourage more people to download it. If you follow these steps, you will be well on your way to effectively marketing your mobile application.
Social Media
You've created an amazing mobile app, and now you need to get it out there so people can find it. Marketing your app on social media platforms is a great way to reach potential customers who are already engaged with brands like yours. It can also be a cost-effective way to drive downloads and increase user engagement. Read on for three tips to help you market your mobile app on social media. 

Organic Social Media Promotion 
Organic social media promotion is an important part of any successful marketing strategy, and it doesn't have to be expensive or time-consuming. Make sure to create engaging content that will grab your users' attention and make them want to download your app. Post regularly on all of the relevant social media channels and engage with users by responding promptly whenever they comment, ask questions, or provide feedback about your product. Doing this will help build trust with potential customers, as well as existing ones. 
Paid Social Media Promotion 
Paid social media promotion is another great way to market your mobile app, but it does require some investment. Paid campaigns can help you reach a larger audience more quickly than organic campaigns alone can. When creating paid campaigns, make sure you are targeting the right people who are likely interested in using your app; this will ensure that you get more bang for your buck! Use relevant hashtags and ad copy that really captures what makes your product unique—this will give users an incentive to click through and ultimately download your app. 
Analytics & Tracking 
Finally, don't forget about analytics and tracking! This is key when it comes to understanding how successful (or not) each campaign was and which platform gave you the best results overall. Analytics will also give you valuable insights into user engagement so that you can tweak future campaigns accordingly. By monitoring metrics such as impressions, clicks, downloads, and conversions, you'll be able to optimize future campaigns for even better results! 
There are many ways to market a mobile app on social media—from organic promotion strategies like engaging content creation and regular posting across multiple channels; to paid strategies like targeted ads; to tracking analytics in order to understand which tactics work best for each campaign—each method has its own advantages and drawbacks depending on your goals for each campaign. No matter which approach(es) you choose when marketing your mobile app on social media platforms, following these tips should help ensure success!
Website
With over five million apps available in both the Apple App Store and Google Play Store, it can be difficult to stand out from the competition. However, there are some powerful strategies you can use to market your mobile app directly from your website and make sure it stands out from the crowd. Let's dive into what you need to know about marketing your mobile app on your website. 

Make It Visible 
One of the most important things you can do when marketing a mobile app is to make sure that the app is easy to find on your website. Make sure that there is a prominent link to download or view the app in both the navigation bar and footer of your site, as well as in any other relevant areas of the page. Also, consider adding a banner on your homepage or any other pages where visitors may be looking for more information about downloading or purchasing an app. 
Another great way to make sure that visitors know about your mobile app is by including screenshots and video previews of it right on your website. This helps visitors get a better idea of what they can expect from using the app before they actually download it. Plus, this type of content will help engage potential users and give them the incentive to learn more about what makes your app unique or better than its competitors. 
Provide Easy Access 
Once you have made it clear that there is an associated mobile application for your website, make sure that people can access it quickly and easily. Provide links within each page of your website so visitors don't have to search around for how to download or purchase the app – this should be as simple as possible! 
You should also provide direct links so users can go straight from their browser window into either Apple App Store or Google Play Store (or whichever store they need) with just one click.  
Additionally, if you offer an online store where people can purchase items related to your app, consider adding a "Download our App" button right next to each product listing – this encourages people who are already interested in what you are offering through their web browsing experience and gives them another reason why they should check out what you have available through their mobile device as well. 
Create Calls-to-Action 
Finally, make sure that every page related to downloading or purchasing an application has strong calls-to-action (CTAs). Something like "Download Now" or "Get Started Today" encourages people who may not have considered downloading or purchasing an app before but now see how easy and convenient it would be for them if they did decide to take action and get started with using yours! Plus, these CTAs also remind existing users who may have forgotten about the existence of an associated application with each page they visit – encouraging them to return back time after time again in order to use all features available through their device.  
Marketing a mobile application directly from its associated website doesn't need to be hard – with just a few simple steps such as making the presence of an associated application visible; providing easy access; creating calls-to-action; anyone can market their mobile apps successfully on their websites! 
If you follow these tips outlined above, you'll soon start seeing more downloads and purchases coming through – ultimately leading to more profit for yourself! 
App Store Optimization (ASO)
If you're an app developer or business owner, chances are you've heard of App Store Optimization or ASO. But what is it, and why does it matter? Put simply, App Store Optimization is the process of optimizing an app in order to increase its visibility on the App Store or Google Play. This means that more people will be able to find it, download it, and use it—thereby increasing your revenue. Let's look at how ASO works and why you should start using this powerful tool today. 


How Does App Store Optimization Work? 
App Store Optimization works by first understanding the keywords that users are searching for when looking for apps like yours. Relevant keywords help your app rank higher in search engine results and make it easier for users to find your app. Once you have identified these keywords, they can be incorporated into your title and description so that your app appears higher up in search rankings. Additionally, ASO can help to improve the design of your page and incorporate visuals such as screenshots or videos that help to draw users' attention to your page. 
In addition to finding relevant keywords, ASO also takes into account other factors such as user reviews and ratings. Positive reviews can lead to higher rankings in search engine results since they indicate that previous customers have enjoyed using the product or service provided by the app—which makes potential customers more likely to download it as well! Additionally, ratings can also influence user opinion by showing them how others have rated the product or service. 
The Benefits of App Store Optimization 
There are many benefits associated with using App Store Optimization for any type of business or app developer—including increased visibility on search engines which leads directly to more downloads and greater revenue potential. 
Additionally, optimizing your page helps build trust with customers since they can easily find all relevant information regarding your product or service without having to dig through several pages of results. Finally, ASO encourages customer engagement by providing detailed descriptions about the product/service offered along with visuals such as screenshots or videos which further draw attention to your page and make customers more likely to download it!  
Start A Blog
Developing a mobile app is no small feat. You've taken the time to create something that you know people need, and now it's time to get your product out there. But how do you do that? One of the best ways to market your mobile app is by creating a blog. A blog can help you reach your target audience and help drive more downloads of your mobile app. Let's talk about why having a blog is such an important part of marketing a mobile app and how you can start one today. 
Why Start A Blog For Your Mobile App? 
A blog is a great way to build trust with potential customers by providing helpful information related to your industry or niche, while also showcasing the features and benefits of your mobile app. It's also an effective way to increase engagement with existing users, provide them with updates on new releases or features, and answer any questions they may have about using the app. By creating content that resonates with users, you can encourage them to download your mobile app and continue using it over time. 
Besides increasing downloads, having a blog for your mobile app will also help improve SEO rankings in search engines like Google and Bing, which will in turn bring more traffic to your website from organic search results. This means more people coming across your website organically without having to pay for ads or rely solely on word-of-mouth promotion for exposure. Plus, if done correctly, blogging helps build credibility as an expert in the field—which can further separate you from competitors who are not actively engaging their target customers with content marketing strategies like blogging.  
How To Create A Blog For Your Mobile App 
Creating a blog for your mobile app doesn't have to be complicated or time-consuming; all it takes is some basic knowledge of web design and writing skills. First things first: choose what platform you want to use (WordPress or Squarespace are popular choices) and set up the domain name for your website (if necessary). 
Once everything is ready to go, start writing content relevant to both users of your app and those who might be interested in downloading it but don't know much about what it does yet—this could include tutorials on how to use certain features in the app, tips on getting the most out of it, etc.. 
If possible, try incorporating video into some posts as well; this will help keep readers engaged longer than just text alone! Finally, make sure you optimize each post for SEO so that it has a better chance of appearing in organic search results when someone looks up topics related to what you wrote about on their favourite search engine.  
Having a blog for your mobile app can really take off if done correctly – from driving more organic downloads through SEO optimization techniques, building credibility as an expert in the field through quality content creation strategies, and engaging existing users through helpful tutorials – its importance cannot be overstated! Start today by choosing which platform works best for you, setting up the domain name, writing quality content, optimizing posts for SEO, and integrating video where possible. 
Create A Promo Video
Want to make sure your mobile app stands out in the competitive app marketplace? A promotional video is a perfect way to showcase your product's features, benefits, and value. Whether you're an expert in creating videos or just starting out, here are a few tips to help you create a professional and engaging promo video. 
Before you start creating your video, decide what you want it to accomplish. What kind of impact do you want to have on potential customers? What information do you want viewers to learn from your promo video? Setting goals will help determine the type of content that should be included in your video. 
Try Mobiroller For E-commerce Stores
Mobiroller is the perfect tool for anyone who wants to build an online store app quickly and easily. With Mobiroller, you can create a professional-looking app in just minutes, without any prior experience or design knowledge. Plus, Mobiroller is easy to use and manage, so you'll be able to keep your online store app running smoothly with little effort.